The news is real and overall it is devastating. The 2019 first quarter OC home sales as described vs. the same first quarter of last year are way off for the top 7 real estate agencies in Orange County.
In September 2017 we forecast and incorporated it into our business plan for the foundation of Realty Pro 100 that the early part of 2019 was going to be bad. How did we know? It was not a lucky guess; it was quite simple to see the big picture watching the real estate industry. With increasing interest rates, higher mortgage costs, and a surge in inventory, more and more people began to realize it was a good time to cash out on their equity.

With the explosion of on-line real estate companies and the surge of new agents into the market, the idea that the average agent who got their license after 2012 has not really seen a down market, nor the companies they represent, is true. In my case, I became a successful real estate agent beginning in 1981 when interest rates could be found in the 18-21% range, with sellers paying buyers up to 5 or 6 points. In some instances, credit card interest was cheaper than mortgage interest, and possibly easier to get at the time.

So, what about you, as the agent who does say 2-10 transactions? Are you receiving the support you feel you need? Is someone telling you that you cannot grow your business in a slow market? There are those of us who have great experience and success in down markets, and others who do not.

At Realty Pro 100 we will be announcing our new corporate headquarters, along with our first of 10 planned locations this 2nd quarter of 2019. The choice is simple…be a transactional agent for one of the unlucky 7, OR invest in yourself and grow your 'relationship based and hospitality focused' business with the next generation's market leader, Realty Pro 100.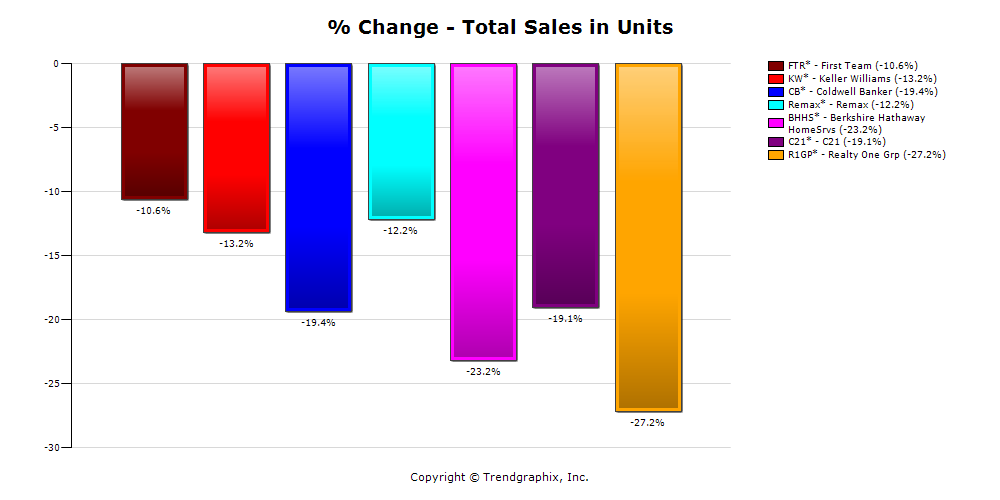 Top Broker - This vs. Last Report
Published: April 2019*
Location: ORANGE COUNTY
Property Types: All Property Types - All Property Statuses - All Properties
Date Range: Year To Date (1/1/2019 - 3/31/2019) vs. Previous Year To Date (1/1/2018 - 3/31/2018)
Price Range: $0 - No Limit
Sorted By: 01/01/2019 to 03/31/2019 (Total Sales in Units) - DESC
Display Filter: Show All
Broker: Aggregated Brands
*All reports are published April 2019 based on data available at the end of March 2019.
**No longer with this broker or office info is not available.
***No longer with this office/broker or agent info is not available.
All reports presented are based on data supplied by the CARETS. Neither the Associations nor their MLSs guarantee or are in anyway responsible for its accuracy. Data maintained by the Associations or their MLSs may not reflect all real estate activities in the market. Information deemed reliable but not guaranteed. If information has been filtered, the report/graph does not represent data in its entirety.