The Unlucky 7 Continue to Struggle
So you are one of the thousands of agents who work at one of the 7 top brands in the OC. You read the caption, and you immediately become defensive of your brand. You might even think 'how dare this launching company publicly reveal weakness in my company?'
Last month we wrote about the top 7 brands, and labeled them the 'Unlucky Seven'. Luck is often times defined by the point at which opportunity meets PREPARATION.
So what does this information obtained from Trendgraphix tell us?
It reveals that the shift in the real estate market is real. You can wait until it becomes way too obvious that a long and drawn out adjustment needs to be made to the way you grow your business (which may result in your trendline matching that of the company that is advising you)……..
OR…….you can PREPARE.
You owe it to yourself to learn more about Realty Pro 100. We are not launching concerned about this shift in the market. We are launching because we predicted more than 18 months ago that this shift would happen. The market is exactly as we expected, off some 20% in the first quarter 2019 vs. 2018 in the OC.

Can your business afford for you to go day to day with business as usual, accepting less than you are capable of?
When the economy changes by 20% it's often seen as a recession, or a depression if it impacts you directly. There is no reason for your production to drop. History teaches us that as properties become more challenging to list and sell, the strongest will increase their financial & production success, while the weak, or unprepared, experience the opposite.

Are you struggling as an agent with an income way down over last year? Or you having a hard time getting traction? Isn't it time to consider a change?
It's your success, and it's your money.
-Blake Vartanian
CalDRE# 00871999
Top Broker - This vs. Last Report
Published: May 2019*
Location: ORANGE COUNTY
Property Types: All Property Types - All Property Statuses - All Properties
Date Range: Year To Date (1/1/2019 - 4/30/2019) vs. Previous Year To Date (1/1/2018 - 4/30/2018)
Price Range: $0 - No Limit
Sorted By: 01/01/2019 to 04/30/2019 (Total Sales in Units) - DESC
Display Filter: Show All
Broker:Aggregated Brands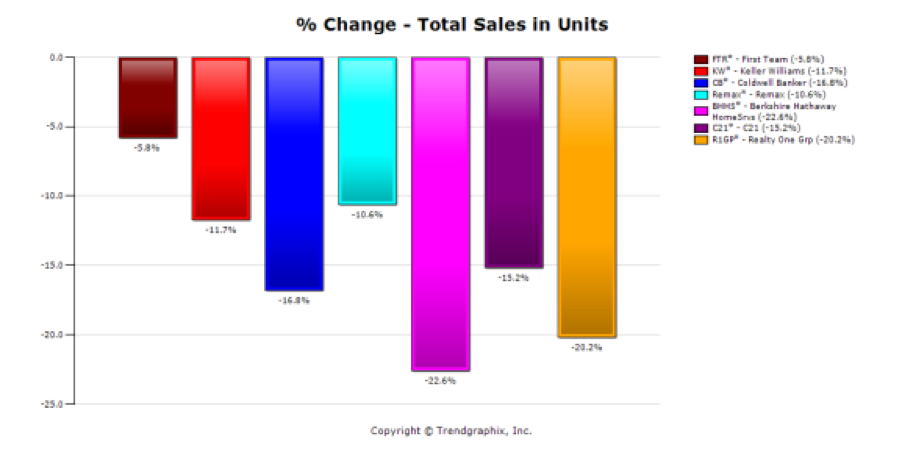 *All reports are published May 2019 based on data available at the end of April 2019.
**No longer with this broker or office info is not available.
***No longer with this office/broker or agent info is not available.
All reports presented are based on data supplied by the CARETS. Neither the Associations nor their MLSs guarantee or are in anyway responsible for its accuracy. Data maintained by the Associations or their MLSs may not reflect all real estate activities in the market. Information deemed reliable
but not guaranteed. If information has been filtered, the report/graph does not represent data in its entirety.
Top Broker - This vs. Last Report (May 9, 2019) - Copyright © Trendgraphix, Inc

When it comes to real estate, not all companies are created equal. Blake Vartanian, as Chairman, along with his wife, Joanne Vartanian (CEO and President), and their Executive Team; Mary Walters (Vice President/General Manager), Barbara Wayne (Broker of Record), and Zantine Greenwood (Chief Information Officer), Realty Pro 100 has the foundation to support your hospitality focused real estate experience through our dynamic sales team.
For more information please contact us at: info@realtypro100.net.
Office CalDRE# 02059058