By Mary Walters, DRE #01938651 and Samantha Rawley, DRE #02059058
As millennials, we have not personally gone through a recession. Our only experience lies within watching our parents go through the Great Recession from December 2007 to June 2009.

Fast forward, we have now both been in the Real Estate industry for 7 years. We have seen different market shifts and have been blessed to be coached and trained by others who HAVE been through recessions.
With that coaching and training, as millennial real estate professionals, we understand that recession does not always equal housing crisis; yet our fellow millennials, due to watching their parents in the Great Recession seem to hold a different perspective.
SO, THE QUESTION AS REAL ESTATE PROFESSIONALS, IS HOW DO YOU SHIFT THE MINDSET OF MILLENNIALS TO SEE THAT THE TIME TO BUY IS NOW??
While the specific answers may vary, it all boils down to EDUCATION. As Real Estate Consultants, it is our job to use the information and data on hand to educate our clients so that they may make the best decision for themselves.
If you have read the book, The 7 Habits of Highly Effective People by Stephen Covey, you may remember the concept of the 'paradigm shift'. In order to remove the misconception that a housing crash is on the horizon, we must help change the way millennials view a recession.
We found the below illustration most useful in helping to dissolve the misconception that prices will drop.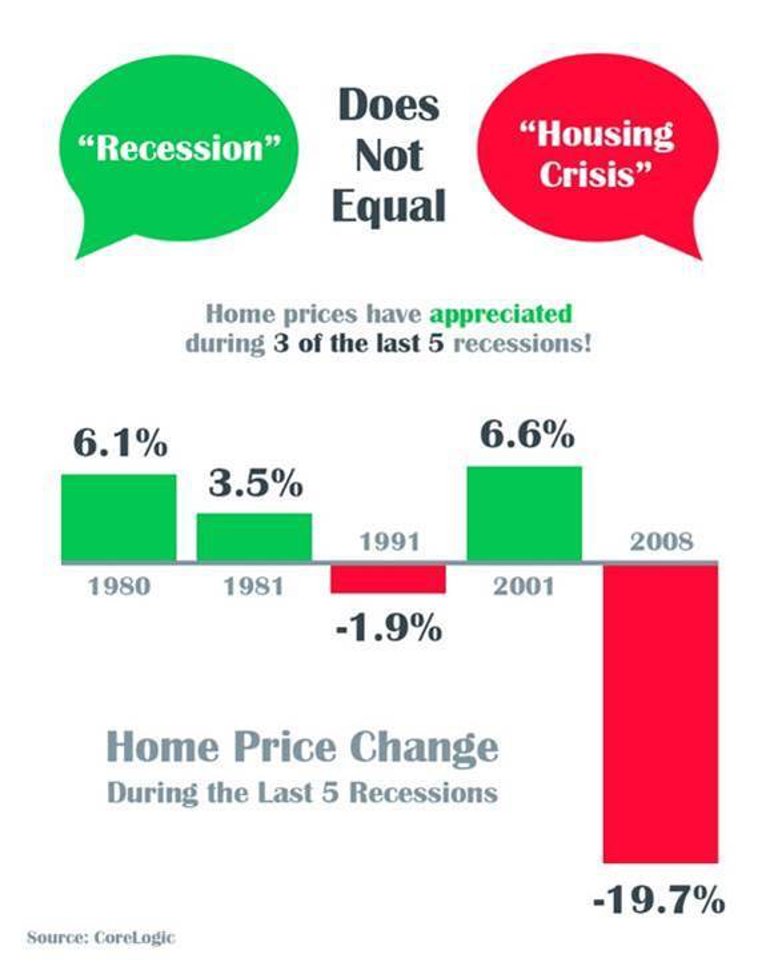 FACTS
During 3 of the last 5 recessions, home prices have APPRECIATED.

The Great Recession was LED by the housing market, therefore the current state of the housing market cannot be compared to that time.
In closing, our opinion is that real estate is the best investment one can make, and the best time to buy is when one can afford to. Affordability is easier now than ever with current interest rates. With appreciation and rate hikes, waiting to buy may cost millennials way more in the future.
When it comes to real estate, not all companies are created equal. Blake Vartanian, as Chairman, along with his wife, Joanne Vartanian (CEO and President), and their Executive Team; Mary Walters (Chief Operating Officer), Mike Cocos (Senior VP/Branch Director), Judy Le (Escrow Manager/Officer), Samantha Rawley (Operations Manager), Barbara Wayne (Broker of Record), Realty Pro 100℠ has the foundation to support your hospitality focused real estate experience through our dynamic sales team.
For more information please contact us at: info@realtypro100.com
Office CalDRE# 02059058